We hear it all. We have a show tomorrow that we need 1000 items for, we need something different, trendy and with a high-perceived value for under $1, we have no budget but want to make an impact. Yeah, yeah we know everyone wants exactly that. We may not be able to give you 1000% brand impact on a 45 cent budget, but our mission is to find the right products for the right occasion, at the most competitive prices in the industry, with the best customer service. We've done this for countless trade shows in the past, on all sorts of budgets and all sorts of timeframes. Here are some things we've learned over the years.
1. Be different, but stay aligned with your target audience.
It's a smart idea to have a branded giveaway that generates a buzz on the show floor. Something that will catch people's eye, and make them think "I want that, I have to have that, where can I get that". But you have to go further. It needs to be relevant, useful and on target to the audience you are trying to capture. So please, lets not start giving out nail files at a construction trade show or baby bibs at an elder care conference, or wait… maybe that would be relevant.
CASE STUDY: A local power company needed a trade show giveaway that was under $1 price point. We worked with our custom design team to design a truly one of a kind piece. It was a light bulb shaped magnetic fridge clip. Not only was it relevant as it was a shape of a light bulb, but we knew we wanted this item to end up in the kitchen/side of fridge for the customer. This turned into being a big hit at the show!
2. Make a scene.
From a customized, professional booth design, to entertaining antics by the booth reps, to even holding a contest. Longer lines and a larger audience at your booth drive more prospects to you. First impressions matter. Everything from custom displays, hiring a magician or entertainer, outfitting your booth staff with professional corporate apparel, to overall booth presence. Bring a dancing baby, you'll be the star of the show.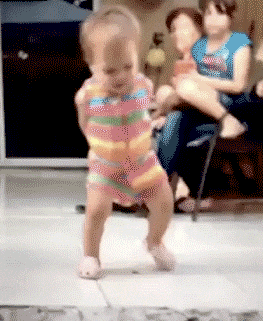 3. Be present.
You must have booth staff that engage. Use your best sales people and have them stand in front of your table. Make sure they know the audience and the objective so they can properly engage with your customers. Focus conversations on qualifying the attendee in order to gauge whether or not they are a prospect worth following up with. Nothing is worse when you are walking the floor of a show and you have to approach the sales person at the booth who is sitting in the corner snap chatting because they feel more comfortable making themselves look like a reindeer with presents coming out of their mouths than talking to potential customers.
4. Get the word out.
Get the word out that you will be at the show. Whether that's on online platforms, emailing your mailing list, sending a direct mail piece, or shouting it from your HQ's rooftops. Try promoting a giveaway that you will be having at the show to get attendees excited about visiting your booth.
5. Measure your success.
So you've got your best people on the floor generating leads, but don't forget the second part of the lead generation equation. Follow up with your customers! Follow up should happen within 1-3 days after the show. If you don't follow up, your ROI will plummet.
Figure out a way to measure your marketing and promotional techniques. The more you know about how your customers respond to your approach, the more you can fine-tune it for the next one. Take notes on how certain interactions work differently than others, bring a few different promotional products and see which gets people more excited, and ask your customers what they want. If you pay attention, each show will produce more results than the last. And most importantly, record as many metrics and collect as much data as possible.metrics and collect as much data as possible.